Food, dining and restaurants
on Hong Kong Island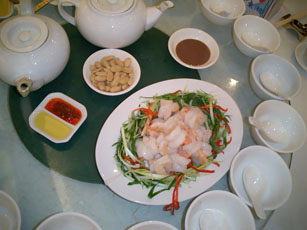 From the with everything from street foods in to Michelin Star dining just in the Central business district alone, and with fresh seafood in Aberdeen beside the harbour while Japanese snacks and foods are to be found in Causeway Bay, there is no one "Hong Kong island food" as such, but there are certainly highlights and things not to be missed.
Here then are some of those choices, from the well known to the obscure, from 5 star hotels to off the beaten track delights, try some of these then strike out on your own and try something you haven't tried before!
Street Foods
While in some parts of the city Street Foods have moved inside, and there are some Indoor Cooked Food Markets managed by the government, there are still some great options for real alfresco eating all over Hong Kong Island.
"Dai Pai Dong" is the original name of the small street side stalls which are now mostly moved indoors, but often spill out onto neighbouring pavements particularly in the quieter corners of Sheung Wan and Wanchai.
Indoor Cooked Food Markets are a way to find a concentrated collection of foods in a small area, try one of the three on Hong Kong Island. They are at 38 Des Voeux Road West, Sheung Wan near Central, at 10 Kut Shing Street, Chai Wan and lastly on the south side of the island at 1 Nam Long Shan Road, Wong Chuk Hang.
In Central there are several small such outside eateries and the most convenient one for a visitor to find is on Stanley Street, this small road that is parallel to Queen's Road Central is more well known for it's photography equipment shops but at the far westerly end of the street, beyond the crossroads with Cochrane Street, there is a collection of stalls in the middle of the street that serve traditional noodle and rice dishes.
Try the Won Ton Noodles, the Yellow Fried Noodles or the Rice with Beef Brisket! Each stalls is a different business but you can mix and match dishes between them as you like.
Dim Sum
Without doubt the most favoured form of Chinese food here on Hong Kong Island as elsewhere in Chinese communities the snacks and meal that is Dim Sum are known world wide.
A combination of small steamed, fried and baked items which are served from trays or trolleys to offer an ever moving buffet the very healthy, tasty and nutritious items on offer make a meal suitable for every taste.
With traditional items like pork and prawn dumplings, steamed sweet BBQ pork buns and crispy spring rolls always available there is also a continuous development of new styles. Both regional items like Shanghaineese dumplings and entirely modern inventions like Porcupine egg custard buns (named for their spiky look, there is no porcupine involved!) are also welcomed.
Try one of Hong Kong Islands' famed Dim Sum Restaurants such as the Maxim's Palace City Hall Dim Sum, in the City Hall, where you need to arrive at 11:00am to have a hope of getting a table for lunch, or mix with the millionaires who get a bite from Fook Lam Moon in Wanchai with it's traditional styled yet unbelievable quality.
Stars
With over 60 Michelin Starred restaurants in Hong Kong it is no surprise that fine dining is both welcomed and accepted in the city. Of course the majority of these excellent restaurants are on Hong Kong Island and they cover a wide range of styles and prices to suit any interest and budget.
Caprice at the 4 Seasons Hotel in Central has the coveted 3 star designation indicating that it offers exceptional cuisine and is worth visiting Hong Kong just to dine there. While on historic Pedder Street the L'Atelier de Joel Robuchon with the same 3 stars is upstairs in the Landmark, one of the best known office and shopping complexes in the city.
For real Cantonese food at Michelin standards consider one of the several Lei Garden restaurants that hold a star, there are branches in IFC, North Point, and Wanchai.
A mix of street style foods, but brought to Michelin star standards, can be found at Ho Hung Kee in Causeway Bay. Won Ton Noodles never tasted so good.
Hong Kong Memories
Queen's Cafe in Causeway Bay - One of the reminders of the days of the White Russians in Hong Kong this uniquely Hong Kong blend of Russian and Cantonese traditions might not be recognizable except for the Borsch Soup and Stroganoff on the menu, but the old timers in Hong Kong remember the days of Russian Jockeys' and plots to overthrow the communists.